Science is not only about gathering of information but basically applying that information in real life situations. As Edward Teller says, ""The science of today is the technology of tomorrow."
To foster sense of belongingness,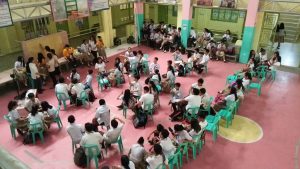 camaraderie, and to sharpen the mind of our students and also teachers in the field of Science and Technology, Science department had prepared activities for its Month long celebration, with the theme: "Science for the People: Liberating Education Through Innovations".
A department meeting was carried out prior to the month long celebration in preparation for the concluding activities. The meeting focused on the plans, activity contest and coordinators assigned mechanics, rules and regulations of the upcoming Science and Technology Fair.
A cheerful opening of the program was conducted last September 3, 2018 with the presentation of Banner Parade of all the participants from Grades 7 to 10. The program started through the singing of nationalistic songs, doxology, and Pasay Hymn. After which was a high-spirited opening remarks delivered by Mrs. Celsa M. Chico, OIC- Department Head-Science. It was followed by the announcement of the schedule of activities by Ms. Glizel Iarrah G. De Guzman. The following activities are as follows; Banner Making Contest, Poster Making Contest, Slogan and Essay writing contest, Quiz Bee, Eco-documentary Contest, Interpretative dance, Astro-adventourama , and Gallery walk. The program ended with a festive parade of different grade levels who participated in the Banner Making Contest. Grade 9 Newton under the supervision of Ms. Lee Fernandez won 3rd place, Grade 10 Malvar under the supervision of Ms. Joy Q. Batang won 2nd place, and Grade 9 Einstein under the supervision of Mrs. Lyle Joaquin won the 1st place
Banner parade was followed by on-the-spot Poster making contest and on-the-spot Slogan making contest on September 4, 2018. It was held at the new building room 403. Facilitated by Ms. Marlin Cuntapay and Ms. Lea R. levite for the poster making contest and Mr. Terence V. Reyes and Ms. Glizel de Guzman for the slogan making contest assisted by the science club officers Gemuil Plana, Aries John Ebon, Anne Coline Fernandez and Angelica S. Culas. The winner of Poster making were Janevier Joy C.Ferrer-3rd Place, Glen M. Layva-2nd Place, and Hannah Marie V. Verona-1st place of 10 Bonifacio, 9 Einstein, and 10 Aguinaldo respectively. The winner of Slogan making contest were Lovely C.Salvador-3rd Place, Lixi Rhena T. Cabungcal-2nd Place, Jhanna Kyle E. Gonzaga-1st place of 10-Bonifacio and 9 Einstein.
Essay writing contest was held September 5, 2018 (Wednesday) at Room 104 Library facilitated by Mrs. Jennelyn B. Denosta and Ms. Jellie A. Surbida with the help of Science Cub Officers Regina Rose Papa and Mica Ella Dorado of 10-Rizal. The winners of this contest were Jafet John M. Guerrero – 1st place, Jhay Martin Libira – 2nd place, and Zamren Lorenzo Omore – 1st Place of 10-Rizal and 9 Einstein.
Quiz Bee was held September 6, 2018 (Thursday) at the Multi-purpose hall facilitated by Mr. Joemar Martinez with the assistance of Gemuil Plana and DJ Dela Cruz. Participants from the different levels were grouped into six. Team A to Team E. We also included in the elimination the school's representative in the division science fair quiz bee as part of their training. Each group is composed of 4 players and each has grade level representative. The winners of the said event were Team E for the 2nd Place composed of Miguel Medal of 7 Makakalikasan, Lee Andrei Dalmacio of 8 Diamond, Arjie Orbong of 9 Boyle, and Rovierre Rodolfo of 10 Luna. Team B for the 1st place composed of Bryan Borleo of 7 Maaasahan, Alvin Detalo of 8 Aquamarine, Kimberly Chicano of 9 Einsti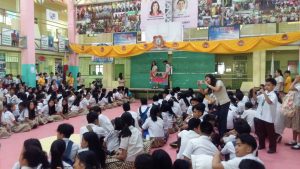 en, and Elijah Ricafrente of 10 Aguinaldo. Team D was declared champion composed of Mark John Balleza of 7 Magalang, Benedict San Miguel of 8 Amehtyst, Raquel Regahal of 9 Eisntein, and Jafet John Guerrero of 10 Rizal.Science Fair was also held last September 25, 2018 in the school ground. This activity was carried out for the purpose of showcasing students' scientific skills and abilities through hands-on activities and various inter-active games; it enables students to develop an inquisitive mind and to become curious about science and the world. Through this, students of President Corazon "Cory" C. Aquino were given the opportunity to be involved in building an existing academic strength by performing various hands-on activities. Elephant Toothpaste (Chemical Reaction), Liquid Density, Floating Needle (Surface Tension), Plastic Bubbles (Properties of Matter) ,Water Purifier, Balancing, I'm in a hole (Probability), Guessing Name (Periodic Table of Elements) were some of the activities performed and explained by selected Grade – 9 students.