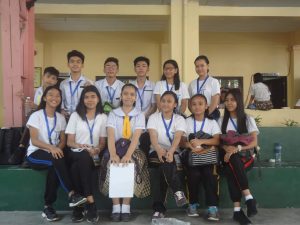 In spite of the limited time and resources for training, the President  Corazon "Cory' C. Aquino National High School delegates made the school proud and on top as they bagged places in the recently concluded Pasay City 40th Pasay City Schools Press  Conference held last September 3, 4 and 6 at the Jose Rizal Elementary School, Pasay City. The conference was joined by over 600 campus journalists coming from elementary and secondary in both public and private schools respectively.
The event officially signaled its opening last Sept. 3, 2019, attended by the Pasay City SDS Dr. Evangeline P. Ladines, OIC- ASDS Dr. Melody P. Cruz, Chied Program Education Dr.  LIbrado F Torres, EPS- English Dr. Imelda V. Boquerin, EPS- Filipino Dr. Edwardo V. Wong, schools principals, school paper adviser, student journalists, trainers and guests. Dr. Soriano, principal of JRES welcomed all participants while Dr. Boquerin checked the attendance of the participating schools in elementary and secondary. Dr. Ladines highlighted in her message that winning in the press conference is not the end of the students' career as journalist but the beginning of a broader and a wider path if one pursues career in journalism.
This 3 day- Schools Press Conference promoted the unity among secondary schools as they recognize the five best outputs in different categories. Sept. 4 is the first day -the opening of the event, while Sept. 5 is the second day – the conference and contest proper and Sept. 6 – third day is the closing and awarding ceremony. Before the conference, the Student Paper Advisers Association of the Secondary Department invited speakers for a workshop that benefits the student journalists. A workshop to share their knowledge and insights in the different areas of journalism like news writing, copy reading, sports writing, cartooning, photo journalism, science news writing, editorial writing, headlining, feature writing, TV production broadcasting and Radio production broadcasting.
On the third day of the press conference, the five best outputs were recognized during the awarding ceremony. The Corazonians winners are the following:
Filipino Category:
Jhay Martin Libria (10- Gold) 1st Best Output (Pagsulat ng Lathalain)

Kazzandrah Andrei Ros (10- Gold) Best in Informacional (Radio Prod and Broad)

Glen Layva (10- Gold) 4th Best Output (Cartooning)
Christine Cabanilla (10- Gold) 5th Best Output (Pagsulat ng BalitangIsports)
English Category:
Raquel Regahal (10- Gold) 4th Best Output (Copyreading)
TrizMarlwin Miranda (8- Mint) 4th Best Output (Cartooning)
Jessabel Bartolay (10- Gold) 4th Best Output (News Writing)
The other Corazonians who joined are the following
Rich James Lozano (10- Gold) 10th Place (Pagkuha ng Larawan)
Allysa Labrador (10- Gold) 7th Place (Photojournalism)
Danryll Capenianes (10- Copper) 10th Place (Feature Writing)
Jhanien Quilang (10- Gold) 9th Place (Pagsulat ng Balita)
Angela Karylle Cortes (10- Gold) 10th Place (Editorial Writing)
Christalle Alliah Joyce Cacho (10- Gold) 9th Place (Pagsulat ng Editoryal)
Fayedelyn Mabini (10- Gold) 7th Place (Science And Health Writing)
Neal Paul Resurreccion (10_ Gold) 9th Place (Pagsulat ng Agham at Kalusugan)
The Student Paper Adviser are:
Maricel V. Calimlim (Filipino)

Ronald C. Mina (English)
The group of the students are very thankful to the School Principal Dr. Efren E. Canzana and Assistant School Principal Dr. Cynthia D. Abella for their support and believing in  the talent of the students. Like what Dr. Canzana once said "Let our students join, it is not about winning… it is about the experience… encourage them to join … give them avenues to develop their skills and share their talents…"
To the PCCCANHS STUDENT- JOUNALISTS… winning is not the end of your career but the beginning of a more challenging pathways of bringing out what others need to know… showing fairness in any news… and showing wisdom in every article you write and share.